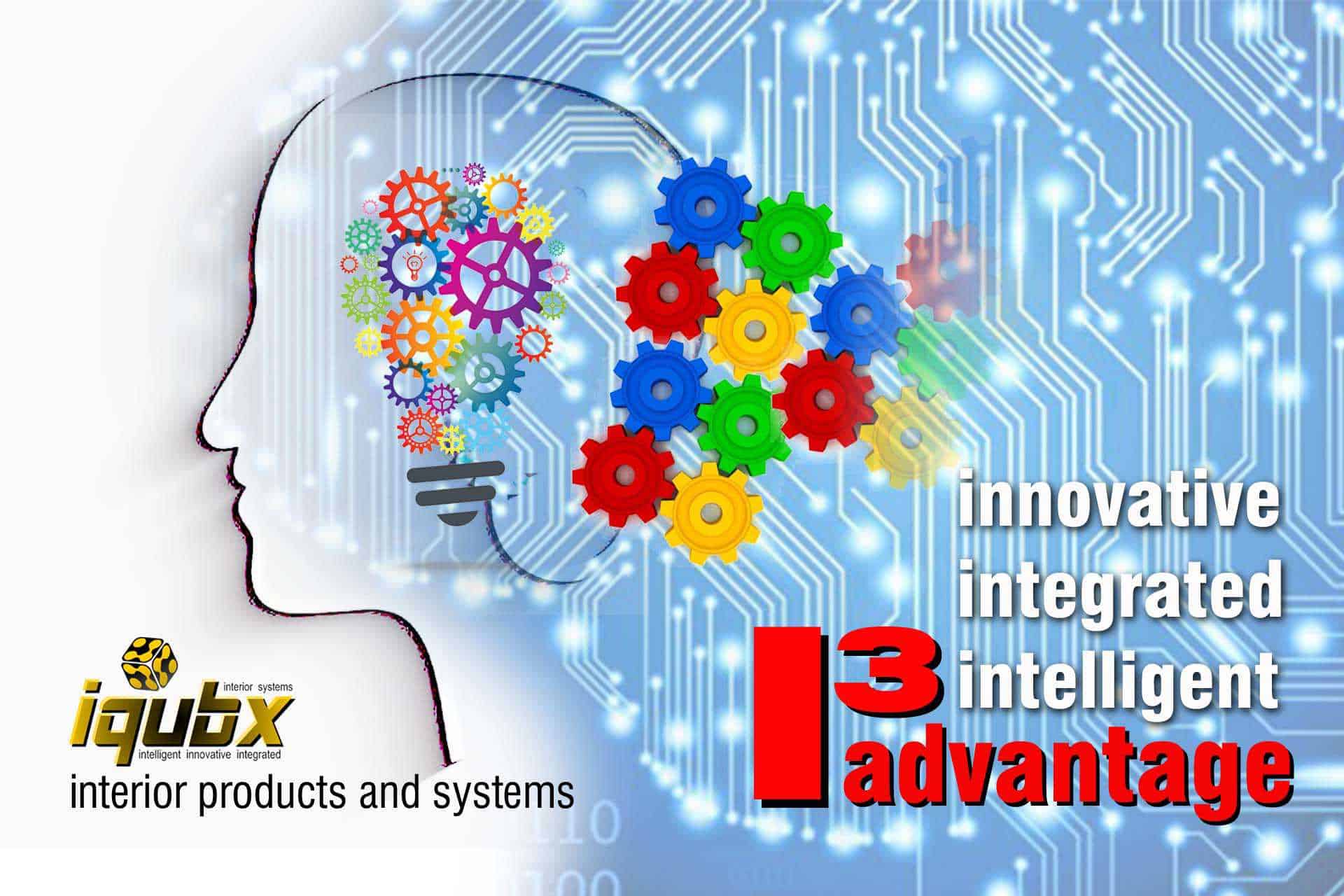 IQUBX, literally derived from "I raised to the power 3" or "I cubed" represents the distinct three characteristics of our products and systems.
Innovative, Integrated, Intelligent – interior systems
Addressing any situation as a challenge and to evolve responsible and sustainable design solutions is our mission.
IQUBX products exhibit these common features –
a) green building material – Aluminium
b) Innovative and unique designs
c) Modular, with minimum logistics and wastage
d) easy and cost effective to handle on site and assemble
e) very low maintenance
f) integrated system designs
Innovative
IQUBX products and systems achieve simple and elegant solutions by relooking at the issue in its entirety to effectively innovate. For instance, IQUBX SK031, aluminium universal modular skirting can snap-fit on itself, thus using the waste cuttings as support cleats, we have done away with an extra part logistically, and reduced waste. This is innovative as well as a strategy towards creating sustainable green products.
IQUBX JB022 and JB023, Modular Aluminium Floor junction boxes are patented products for wire management on construction and interior sites, addressing issues of aesthetics, finishing, safety, logistics, environment and sustainability through innovative use of material and assembly.
Integrated
Through Integrated system design, we aim to achieve a uniformity of design, detail and aesthetics in the ambience. By using same parts in various applications, integrated system design is also an effective strategy to bring down logistics, wastage and thus, carbon foot print. For instance, IQUBX SK031, aluminium universal modular skirting can be used not only on walls and partitions, but is a part of universal modular partition system, through which it can be used on workstations, glazed partitions et al.
Intelligent
Next phase of development at IQUBX is to embed the products with intelligence through sensors and actuators as well as integrating them with IOT systems. IQUBX intends to create intelligence embedded products to help achieve integration and thus sustainability.