Office partition wall design and contemporary office design trends
Movable office partition wall systems or Demountable partition wall are an integral part of most of the office furniture design solutions today.
Focus in office design is on creating flexible, stimulating, aesthetic and comfortable idiosyncratic spaces where innovation and creativity can thrive.
Spaces need to balance out between human requirements of socializing and isolation – huddle rooms, meeting rooms, activity and focused work areas, team workspaces, alternate workspaces, shared workspaces. The aim is to have collaborative work spaces which allow individuals to go into their shelled spots as and when required.
Such flexible and aesthetic spaces can use flexible and movable modular wall partitions. One should be able to easily and quickly relocate these partition wall to address frequently changing workspace requirement to efficiently use the space. Such Demountable Partition Wall systems are also called Wall partitions, Solid partitions, room dividers, office modular partition system, panel partition or soundproof partitions. Sometimes they may be simply referred to as Wooden Partitions.
This paneling and partition wall system are also equally ideal for hospitals, banks, commercial spaces of any kind.
IQUBX WP01P demountable panel based Aluminium solid Office Wall Partition and Paneling system
Glass partitions are used primarily to create such spaces. IQUBX GP02510 and GP01510 are two systems which fulfil this requirement. However, often semi-private or private spaces demarcation require solid and semi-solid dividers or Solid Partitions. These partition wall systems should ideally be flexible, quick to install and relocate. IQUBX WP01P Movable or Demountable office partition and paneling system can be ideal for such demanding requirements.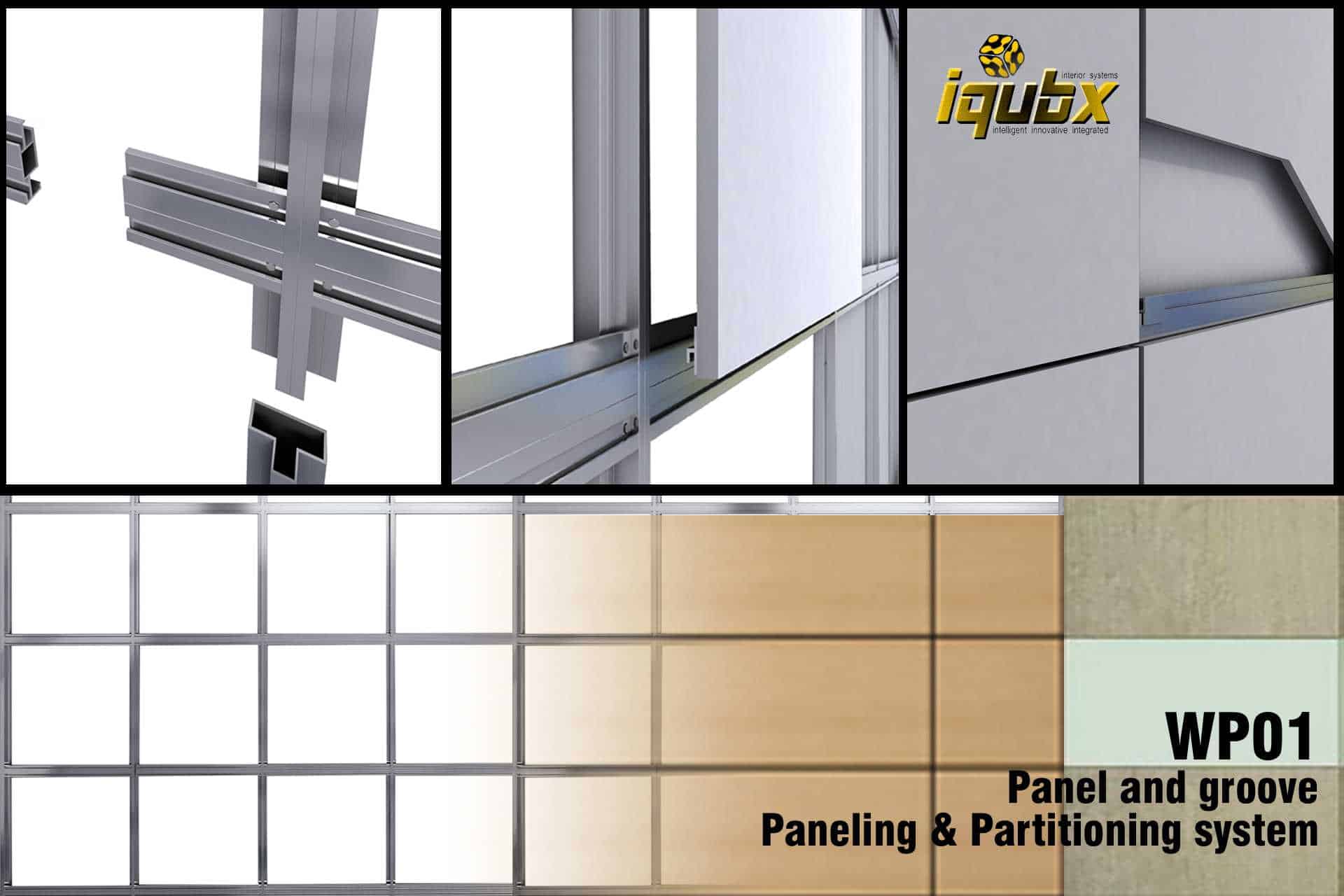 WP01P is a structural aluminium frame and panel wall partition system with proprietary sections made from high-quality extrusions.
This unique post and rail framing system, WP01P can accommodate various design grids and sizes of panels for wall paneling and wall partitions. This system is designed to quickly generate panel and partition wall framing on site as per desired sizes. The load-bearing frame of the wall partition can be fixed on a surface in plumb and line with ease. Thereafter, the panels can be fixed on to the main framing with help of interlocking hooks very fast. This system can save an enormous lead time and labor cost.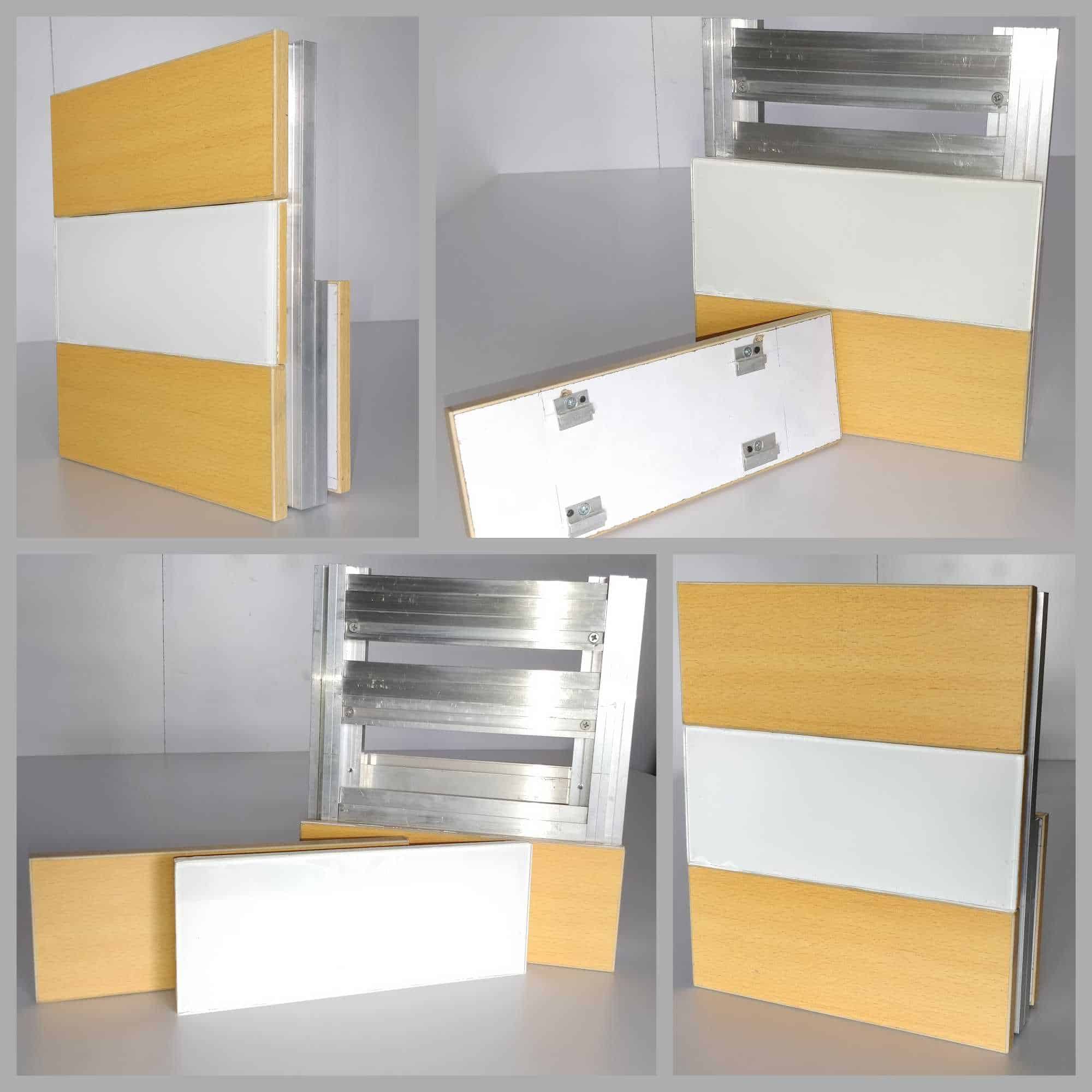 This wall partitions design has the built-in functionality of allowing simple hooking of the pre-finished panels with a uniform designed groove. This groove may vary up to 12mm in width, which should take care of most of the design requirements. The grooves may also be varied in same partition wall to create artistic design effect.
WP01P has a unique wall partition design using a single frame with single skin to create a paneling on the wall surface. The same partition wall can also be used as a single face finished partition wall. For making a double side finished partition wall, a double frame is created. This halves the cost if paneling or single side finished partition is required.
We recommend using 12 thick prelim and edge-banded panels for most partition walls, though, there are numerous possibilities of cladding materials and thicknesses. The partition panels can be pre-laminated boards or laminated ply or glass panels with back ply. One is only limited by one's imagination.
These panels can be removed and reinstalled for access to the panels for servicing or maintenance with equal ease. This can be very advantageous for services to be laid behind such a paneling or partition walls. This aspect also can influence the workflow of installation on site, as paneling or wall partitions need not be withheld till the end of services installation.
This demountable paneling and partition wall system are ideal for offices, hospitals, banks, commercial spaces of any kind.
Features of WP01 Aluminium Demountable Office Partition Wall system
It is designed to be installed fast very easily
This Office Partition wall system is flexible enough to adapt to various designs and finishes.
It is structurally sound and can take desired loads.
This modular partition wall system allows access to embedded services for maintenance or modification with ease.
It can also be used as wall paneling system on adjacent walls to allow uniform and integrated designed ambiance in the workplace.
It can accommodate glass-based panels for design as well as glass board functionality
This movable office partition wall system can be easily uninstalled and relocated. The structural frame posts can be fixed to floor and roof slab with help of height adjusters if fixing in the floor is not desired to avoid damaging the floor.
It can have glass wool or mineral wool infill panels for acoustic insulation
Other generic features of the IQUBX I3 systems are also applicable
Features of IQUBX Systems
Modular design
Prefinished
Quality
Minimum assembly time
Maintenance free
Holistic and innovative use –Since this metal cladding can be installed on various wall surfaces and partitions, it gives a very holistic aesthetic design appeal. It can be used in different spaces requiring different aesthetics. This system can be innovatively used by mixing different finishes and colors to create very contemporary effects. One may even combine it with other finishes like colored glass or paint finishes to produce striking effects
Environmentally friendly Green Building Material– Aluminium
Technical specifications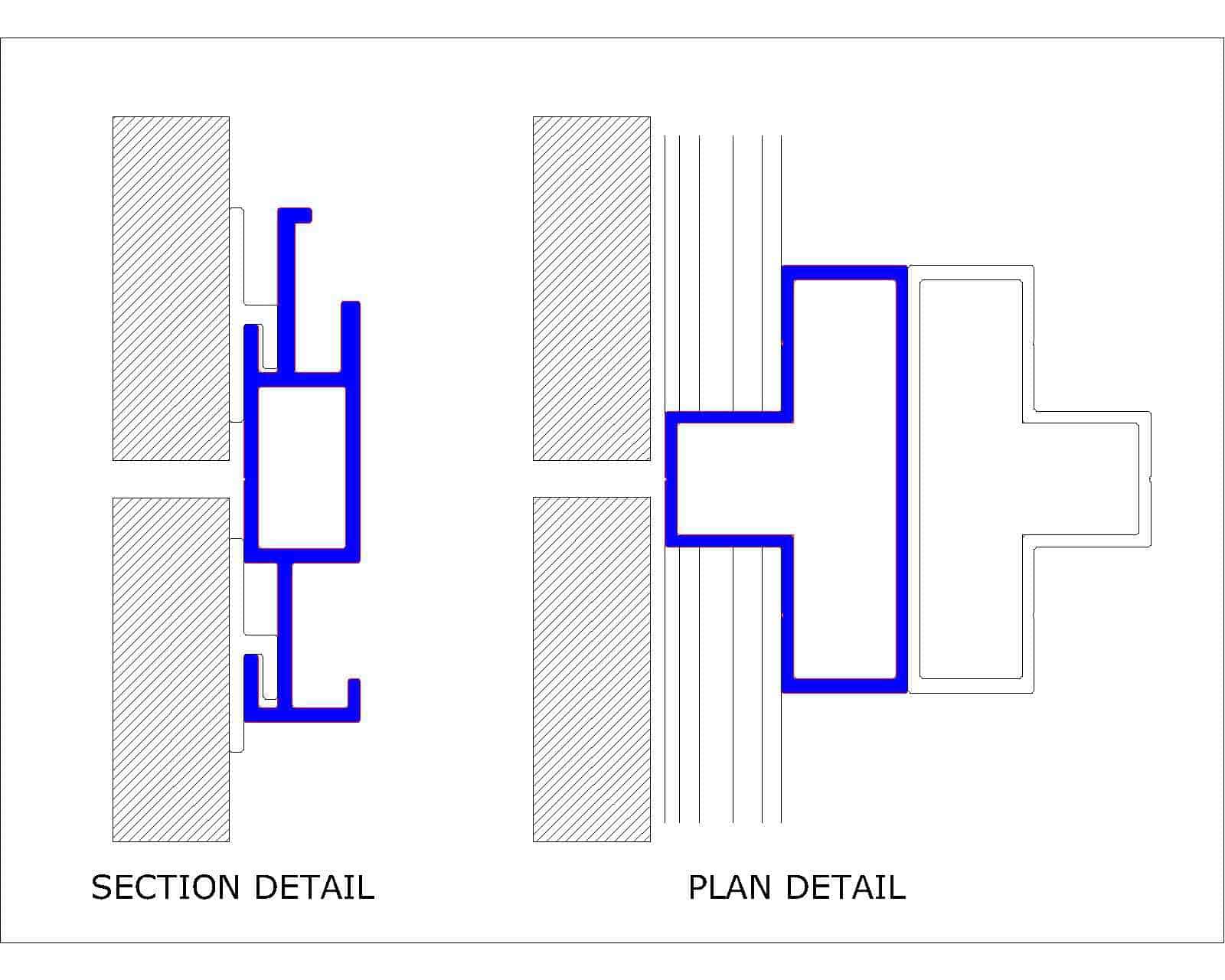 Main post section 25 x 44
Main rail with hook system 12 x 53
Hook section 5 x 22
Order length : standard length 2400 mm; 3000, 3600, 4800 mm on order
Standard availability in raw aluminium finish
To order
We would like to offer regularly resources of use to Architects, interior designers, decorators, Contractors, Electric consultant, engineers, LEED consultants and all those interested. To subscribe to our regular updates and offers, please click here subscribe