Aluminium, the "grey gold", is the second most abundant metallic element in the earth's crust (after silicon) and now the world's second most used metal. Aluminium's unique properties and qualities, including numerous aluminium alloys, inspire awe amongst the designers to create new stylized avant-garde products and applications – from auto and aerospace components to building industry to household articles like lamps, jewellery, kettles and lemon squeezers. Its use contributes to increased fuel efficiency in vehicles ranging from passenger cars to armoured tanks to light weight building products which reduce structure weight, transportation and labour costs. Highly recycled and lightweight aluminium packaging reduces shipping costs and carbon emissions for beverage makers. Lightweight, strong and highly recyclable, value-added aluminium products can lower energy costs and carbon emissions in dozens of applications.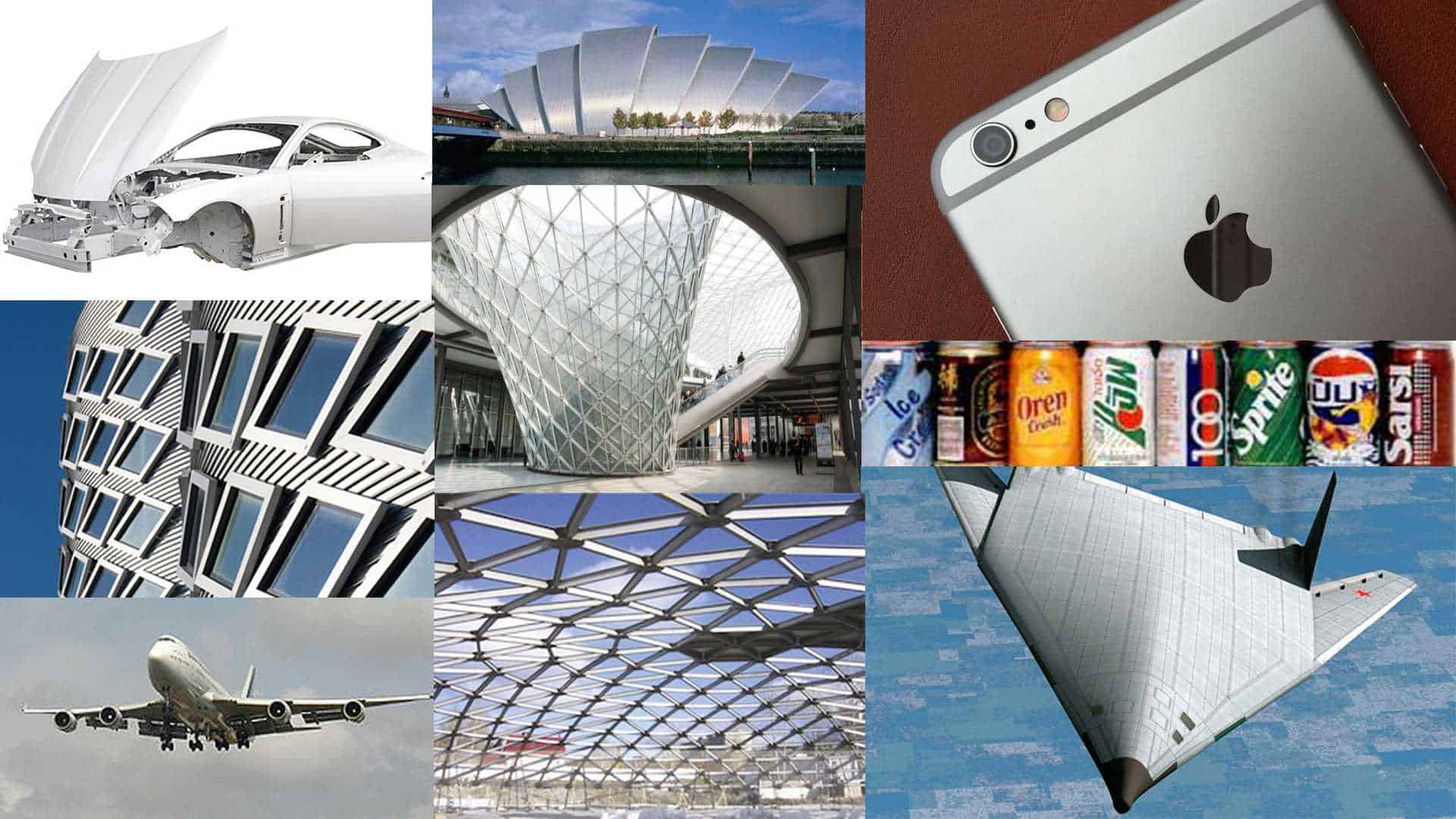 First major use of Aluminium was around 1920s, when it begun to be used for decorative elements in building and construction industry. However, it was 1930s whence major structures like Empire state building including interior structures and the spire were built with Aluminium. The other elements included entrances, elevator doors, ornamental trim and more than 6,000 window spandrels. In 1994, 5,460 windows in the iconic building were replaced with aluminium frames. (The original steel frames had deteriorated, allowing for frosting, water and air leakage.)

While the construction process and materials represent a minor portion of a building's total carbon emissions in its lifecycle, nevertheless, for a sustainable future for mankind, there is a keen requirement of innovative processes and materials, which can reduce this huge carbon footprint embodied in the building during the construction phase.
Designing and construction of Green buildings and interiors are the norm today for responsible stake owners. However, any effort in this direction needs auditing. LEED, or Leadership in Energy and Environmental Design, is the world's most used third-party verification for green buildings, with around 1.85 million square feet being certified daily. Projects pursuing LEED certification, from homes to corporate headquarters, earn points across several areas that address sustainability issues, based on which they get certified at various levels – Silver, Gold and Platinum.
Recycled Aluminium – Very Small Carbon Footprint
Material selection is integral to LEED certification and some materials like Aluminium have been accepted as ideal to produce components of construction and interiors. Though the production process of Aluminium from ore is energy intensive, the technological advances have made the production process more efficient by 25% since 1995 and the carbon footprint is down by nearly 40%. However, Aluminium is considered a green building material because of its property of being easily recycled infinite times, at just an energy consumption of 10% of the initial input, without losing any of its properties. Nearly 75% of all aluminium produced is still in use today. Typically aluminium building products contain more than 50% recycled metal. Postconsumer scrap (e.g., recycled auto parts, window frames, beverage cans) and pre-consumer (i.e., post-industrial) scrap is recycled and mixed with virgin material to produce new products, without effecting any of the properties. "Aluminium could, therefore, be thought of as a permanent material and a critical technical nutrient within a Circular Economy framework".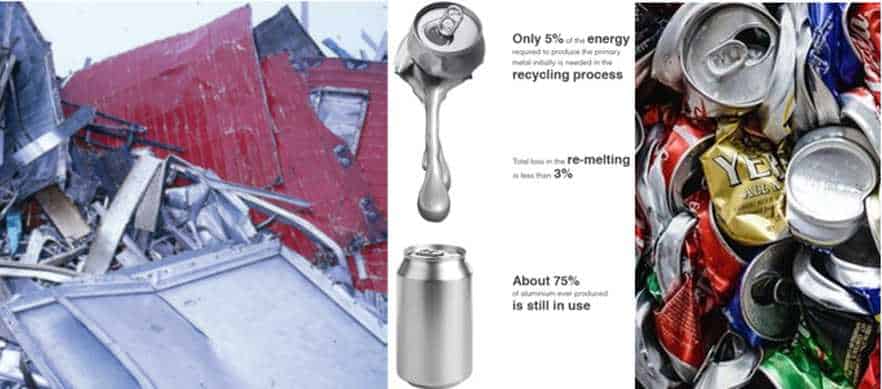 Apart from being a highly recyclable and green building material, Aluminium and its alloys exhibit some amazing properties, making it ideal for use in building industry.
Aluminium Properties:
Lightweight, strong and flexible: Aluminium's high strength-to-weight ratio makes Aluminium structures lighter by 35% to 65% compared to steel, while providing equivalent strength. The modern skyscraper could not be built without aluminium. Modern lightweight aluminium alloys can easily support the weight of heavy glass spans for fenestration, thus maximizing the building's capability for using natural sunlight.
Aluminium can be made into any form, shape, size, and gauge without compromising material integrity and performance, making it ideal for lightweight and strong building and interior components. These properties make it ideal for very complex extrusions and castings.

Reflective: Aluminium is a good reflector of visible light as well as infrared rays (heat) of the sun. Properly coated aluminium roofs can reflect up to 95% of the solar energy that strikes them, dramatically improving energy efficiency.
Safe, Durable, Corrosion resistant and long-lasting: Aluminium and its alloys exhibit strength, integrity, and resistance to the influence of natural environment and extreme weather, and thus aluminium products, do not rust, decay, crack, lose shape, nor are susceptible to pests. Aluminium naturally generates a protective oxide coating that resists corrosion. Different types of surface treatment, which are completely non-hazardous to building occupants, can further improve this property. Its surface is impermeable and does not allow bacteria and germs build-up. This makes it ideal for use in clean rooms, hospitals, server rooms etc. It is also ideal for floor junction boxes, floor embedded raceways. Aluminium used in buildings usually has a designated service life of multiple decades
Low maintenance: Aluminium products need only be cleaned to remove dust as a routine, with no maintenance required, resulting into a major cost saving and ecological advantage over the lifetime of a product. Cleaning and maintenance of aluminium products in buildings usually does not involve chemicals or toxic agents.
Fire safety: Aluminium alloys do not burn, melt at around 650°C and subscribe to performance criteria presented in ASTM E 136-11.
Pre-fabricated: Aluminium building products or components are normally pre-fabricated and prefinished. Being lightweight, transportation and handling overheads are minimal, while construction time is highly speeded up. The product quality is superior due to manufacturing processes and properties of it being flexible, strong with integrity. Production scrap materials are centrally generated and recycled, minimizing excess waste on the construction site.
Aluminium for Interior and exterior products
Aluminium is an ideal material for interior and building components including hardware, joinery, lighting, panelling, partition systems, work stations, modular office furniture and accessories like skirting and mouldings. Replacing conventional designs and components made of materials like wood, steel, ceramics will impact our environment and help create a sustainable future.

Sources of articles and websites for information for this blog
1. Aluminum – The ABCs of Green Building Materials, August 3rd, 2016 by Aisha Abdelhamid (https://greenbuildingelements.com/2016/08/03/aluminum-abcs-green-building-materials/)
http://www.aluminum.org/product-markets/building-construction
2. Sustainability In Action, The aluminum industry recognizes the importance of sustainable business practices. A number of Aluminum Association member companies have specific companywide sustainability programs. http://www.aluminum.org/aluminum-sustainability

3. Green Building Guideline Series: The Aluminum Association developed Aluminum in Green Buildings: A Guide to Green Building Development and Certification with Aluminum Products and Aluminum in Green Buildings: A Guide to Environmental Declarations to assist and support aluminum end-users – architects, designers and engineers – in making informed decisions about aluminum products.
The A Guide to Green Building Development, released in 2015, was developed to assist stakeholders in understanding how aluminum contributes to green building development and achieving certifications like Leadership in Energy & Environmental Design (LEED). The intended use of this guide is to support users in understanding how aluminum contributes to current commonly adopted green building certification systems and green construction codes, including, Leadership in Energy and Environmental Design (LEED®), Green Globes®, International Green Construction Code (IgCC)
To download A Guide to Green Building Development, click here. For more information visit www.Aluminum.org, on Twitter @AluminumNews or at facebook.com/AluminumAssociation
http://www.aluminum.org/aluminum-sustainability
4. http://www.aluminium-india.org/ (Aluminum association of India)
5. https://igbc.in/igbc/