Floor Cable Raceway is essentially an enclosed conduit to provide a physical pathway to carry wires and cables. Floor cable raceways are also known as floor trunking system or under /on floor duct system and popularly as electrical wire raceway. These are laid usually under/on the floors, and sometimes above a ceiling and on walls.
Cable Raceways are used in almost all projects of virtually any size to make the task of laying wires and cables easy. They also make it easy to maintain the wires and cable systems even after completion of the projects. Floor Cable Raceways protect wires and cables from heat, humidity, corrosion, water intrusion and general physical threats.
Electrical wire Raceways are always used in conjunction with Floor Junction boxes to make complete floor trunking system.
Typical Floor cable raceway systems
Traditionally, cable Raceways are fabricated to order, and sometimes available in standard sizes. They are usually fabricated In GI sheet metal and sometimes manufactured in other materials like plastics and aluminium.
There are inherent disadvantages in the traditional design and material of the wire Raceways.
Logistics, material and time wastage
A lead time for fabrication is required, at least around a week causing wastage of time at the start of a project. This may also lead to a shortage of material later at the site as the material has to be reordered. Or a wastage may happen as some extra material has to be ordered a buffer.
Non-environmentally friendly
GI is not an environmentally friendly material. Galvanized Iron is a corrosive material and raceways gets rusted in the floor, which may even damage the cabling. The reuse of material is not possible and GI scrap value is quite low..
Non-conducive to data cabling
GI is a magnetic material, which may distort the low magnetic fields of the data cables to some extent
Difficult to install on site
GI raceway cutting and sizing is tedious on site
Cracked floor finishes and squeaking electrical wire raceways
Wide floor cable raceways may sag on pressure of furniture and movement if adequate cover of flooring sub-base material is not there, causing cracked or squeaking floors
IQUBX RW011 and RW022 Aluminium Modular Floor Cable Raceway System
(may be used on walls and ceiling as well)
IQUBX has launched GREENPRO certified (by IGBC, CII) unique innovative Floor cable Raceways to tackle the inherent disadvantages of the traditional systems. They have some distinct features like Modular design – ready to install and assemble at site and they are made of Aluminium. Together with the IQUBX aluminium Modular Floor Junction Box JB022 and JB023, they form a complete under-floor trunking system.
Advantages of IQUBX floor cable raceways
These are professionally designed systems to suit contemporary interiors green certified products and can be used
a. under floor
b. on floor
c. on walls.
Logistics, material and time savings
Being Modular, they can be stacked horizontally and/or vertically to fulfil various size requirements. Thus, lead time can be reduced to zero by stocking. Effectively, low buffer quantities on site are required and wastage is zero since left overs can be used in subsequent projects
No screws – snap fit assembly of cover speeds up the assembly and removal of cover, if required; Lighter unit weight is easier to handle, saving on labour
Environmentally friendly Green Building Material
Made of Aluminium, an Environment-friendly material with low carbon foot print and possibility of reuse with high scrap value, makes these products ideal choice for contemporary projects, especially LEED certified green buildings
No Cracked floors and no squeaking floor raceways
The extruded profile has grooves on all sides, allowing a strong grip to sub base material and avoiding cracks in the floor.
Sturdy and stable walls at every 150mm or 80 mm and ribbed cover provides structural stability, allowing high furniture and live load without sagging or creaking.
Conducive to data cabling
Being made of Aluminum, a non-magnetic material, these cable raceways are ideal for data cabling (give links)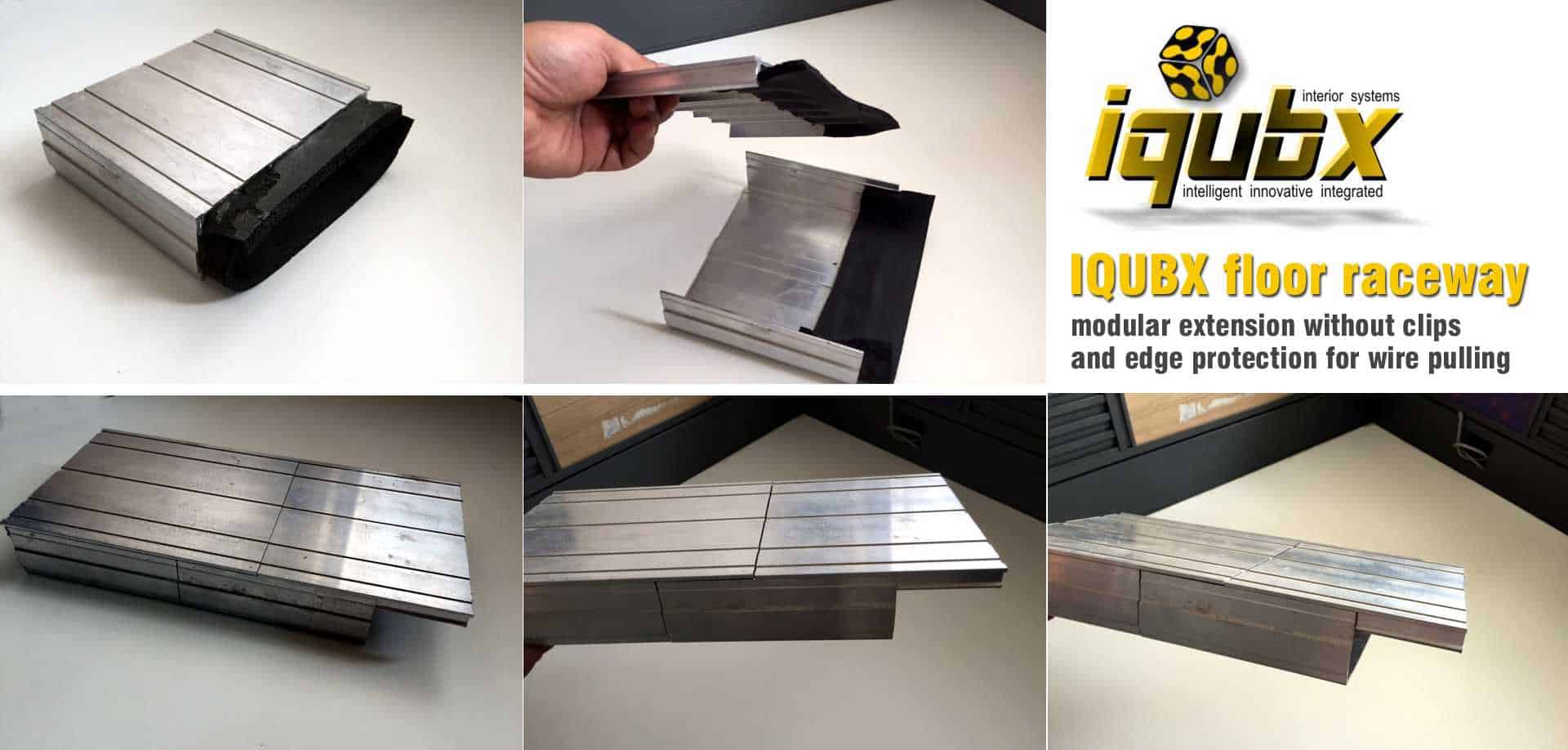 IQUBX RW011 (150 x 45mm)
It is a super-premium, very high load bearing capacity and meant for demanding environments. This modular Aluminium cable raceway system comes with snap fit cover; horizontal interlocking; grooves for a better fit with the substrate. An optional divider can be used to carry the power and data cables in the same raceway as Aluminium is a non-magnetic material.
It can be used as exposed cover cable Raceway, an elegant and permanent substitute for on-floor floor cable Raceway or over the floor electrical wire raceway in a floor in high-quality interiors. It is an excellent solution because it is easily openable and makes the maintenance and modification of wires and cables very easy, besides being very trendy and contemporary. This is an ideal solution for carrying cables across an existing interior too without extensive renovation.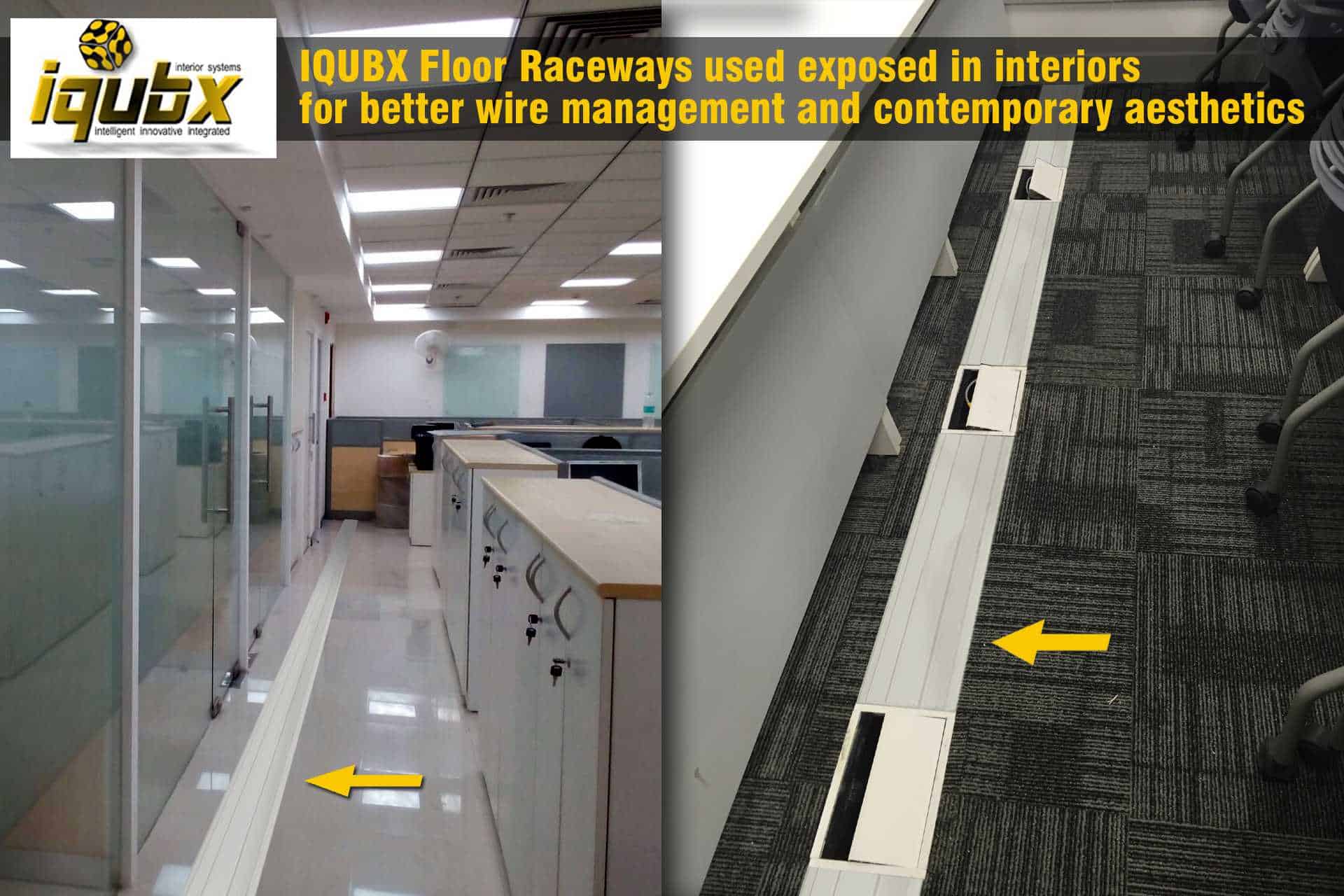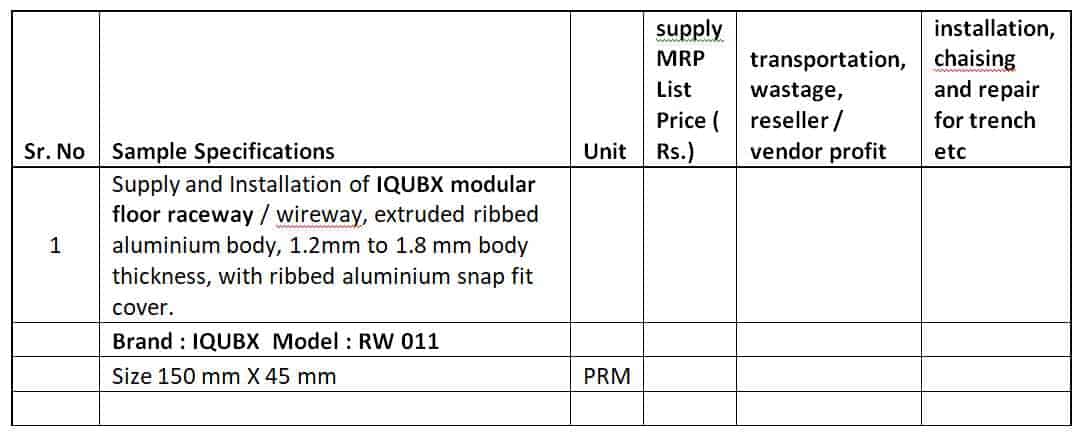 RW011 -150 x 45 optimised size cable raceway unit can be multiplied in width with staggered interlocking to 300 x 45, 450 x 45 and so on
All profiles RW011 available in 2440 mm length, made to order up to 4800 mm in raw aluminium finish
IQUBX RW022 (50 x 50mm)
It is an economically priced, premium, high load bearing capacity, modular Aluminium floor cable raceway system. It comes with snap fit cover; horizontal and vertical stacking and interlocking; grooves for better fit with substrate
RW022- 50 x 50 has an optimised size and cable raceway unit can be multiplied in width as well as height with staggered interlocking. Therefore, sizes like 100 x 50, 150 x 50, 200 x 50, 250 x 50, 300 x 50 etc can be achieved.
All profiles RW022 available in 2440 mm length, made to order up to 4800 mm in raw aluminium finish
---
more information on the products and placing orders
Call +91 9999001967, 8506074444, 7065444402
Or email at [email protected] and [email protected]
Visit our site www.IQUBX.com to check out more products
We wish to tie up in India and other countries for marketing these products. Please connect with me for collaborations.
Subscribe to our newsletter for latest updates!