IQUBX JB022 and JB023 are certified GREENPRO (by IGBC, CII) Modular under floor junction box or floor access units, made in Aluminium, which can be built to a required size on site. IQUBX JB022 and JB023, Modular Aluminium Floor junction boxes are patented products for wire management on construction and interior sites, addressing issues of aesthetics, finishing, safety, logistics, environment and sustainability through innovative use of material and assembly. They can be fabricated on site or modified to any size and have high load bearing capacity. Best advantage is that the lid can take any floor finish, thus giving a seamless floor.These electrical floor outlet or floor access box are ideal for locations such as in office spaces, hotels, showrooms, hospitals, institutes, educational institutes/universities, airports, industries, and others, like commercial establishments.
These floor Junction boxes are used as a part electrical Floor Trunking system for electrical wiring and data wires and cables. IQUBX Floor Trunking system is made of modular Floor junction box and Floor raceways. They can also be used for creating Raised access floor in server rooms and electric rooms. They are green building products and meant for spaces where safety and aesthetics are required.
Patent for this product is already under process.
Traditional Floor Junction Box – does it meet the requirements?
Floor Junction boxes are used to connect different raceways or conduits, carrying electric wires and data cables on the floor. They act as floor access outlets to facilitate pulling, laying, managing and maintaining of wires and cables. This allows connection of these wires and cables to desired devices. They are typically a closed cell with side openings for raceways and from the top for access.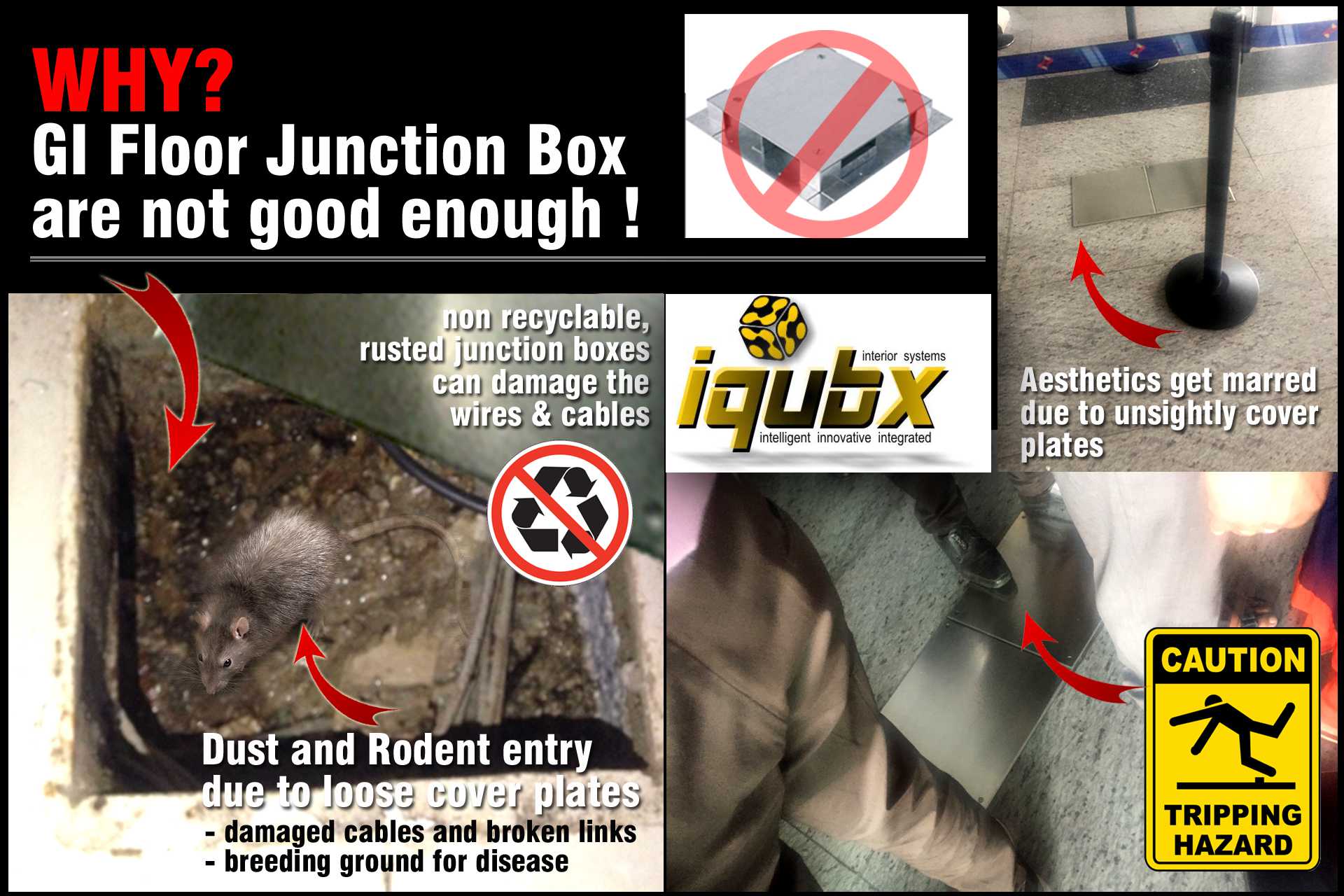 Conventional Floor Junction boxes have fixed sizes
Conventionally, GI floor junction boxes are fabricated at manufacturing facilities or local workshops to standard sizes or as per the provided requirements. This results in wastage as well as logistic issues which add up to the loss of time and increased costs.
Due to the fixed sizes and shapes, all of these Floor junction boxes do not perfectly align with the floor finishing. This spoils the aesthetics of the interiors.
GI, by itself, is also a material with high carbon footprint and is highly corrosive. Thus it has low scrap value and may not be recyclable after use in a floor.
Cover plates of Floor Junction boxes are flimsy, unsightly and can come loose
The cover plate of conventional floor junction boxes are traditionally made of powder coated Galvanized Iron sheets or stainless steel plates. These stand out as distinct from rest of floor finish, affecting overall aesthetics of interiors.
Being thin and non-profiled, they also tend to bend under load. Being fixed with screws, they tend to come loose and become a safety hazard. People can trip over them or can even cause cuts and bruises. This also becomes an entry point for dust, rodents etc, which may damage the wires and cables inside.
Other Floor access boxes types with height adjustment
Alternatively, fixed size prefabricated Floor Junction Boxes are available. However, they are constrained by their size and do not offer the flexibility of modification as per site conditions.
Some of these floor junction box types come with adjustable height through screws. There are others with hinged lids with a functionality of accommodating a limited number of lid finish as per surrounding floor finish. However, all of these floor boxes are highly constrained by fixed sizes that are available and limitation of ready availability. There is also a limitation of material that can be used to finish the lid and the range of the height adjustment.
IQUBX Modular Under Floor Junction Box – a revolutionary simple Green Building solution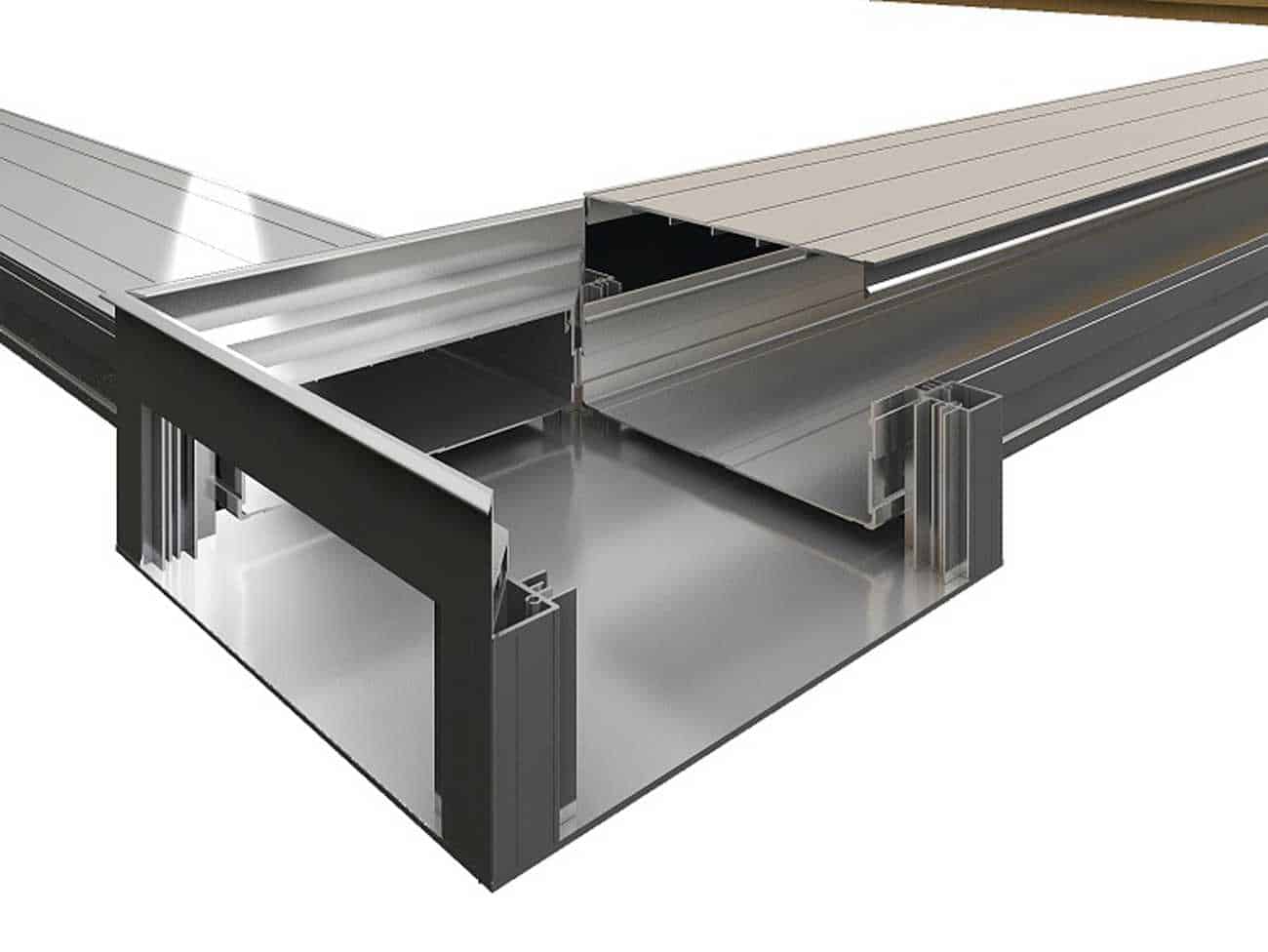 IQUBX JB022 and JB023 modular electrical under Floor Junction boxes are GREENPRO certified an improved and elegant, flexible patent design. These floor junction boxes provide a readily available solution for any size and load-bearing capacity. Yet, they are able to meet aesthetic criteria for contemporary interiors in such spaces. These junction boxes are a part of Floor trunking system along with IQUBX Floor raceway system.
IQUBX JB031 is a customized (on order) variation where these recessed floor box outlets can be adapted to accommdate switch and sockets. It has all the advantages of the JB022 and uses the same basic components, while it additionally, it accommodates switch socket outlets of any brand, any numbers as per requirements.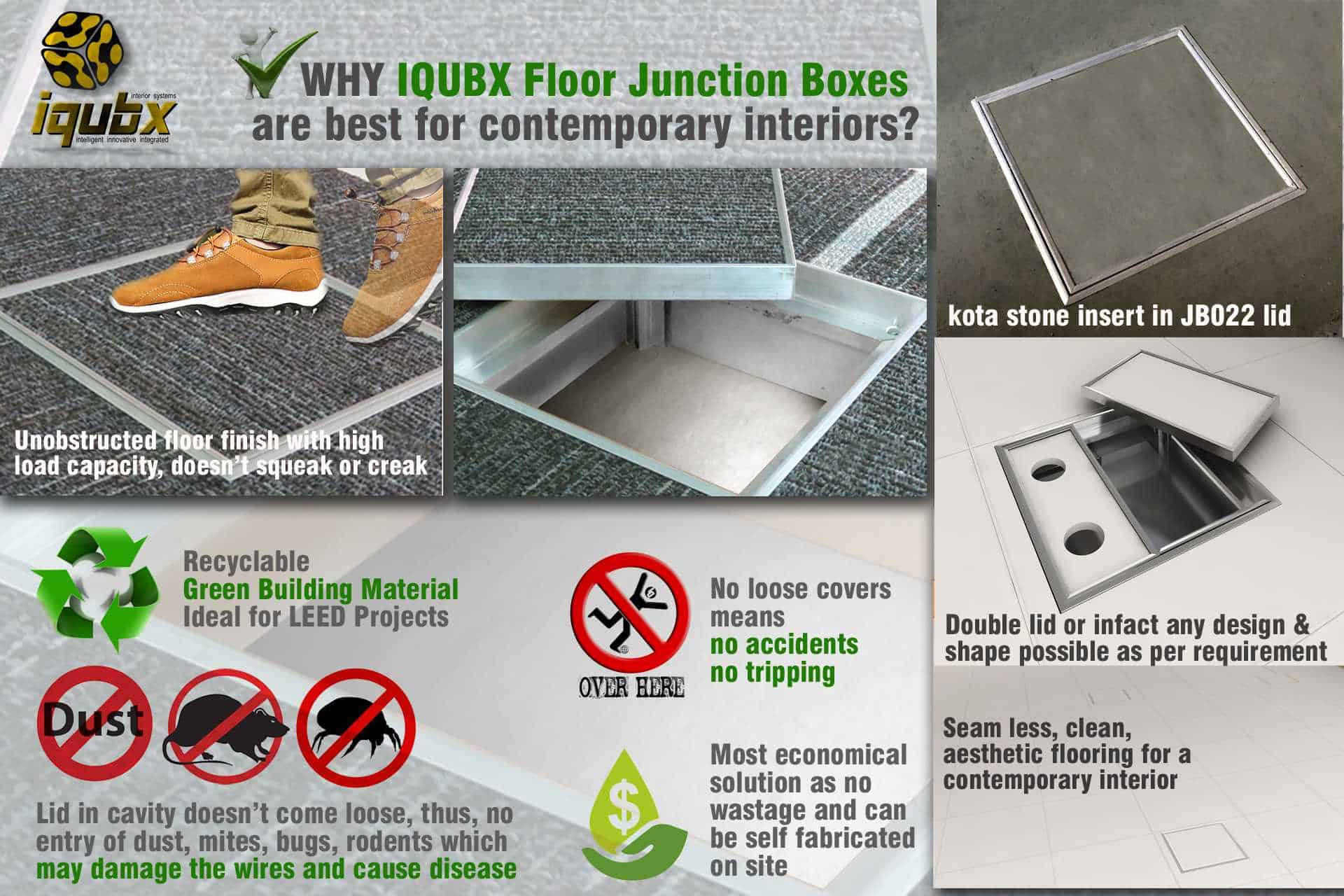 IQUBX under Floor Junction Box for wiring and cables can be fabricated in situ (on site) with only a few basic components. These can be readily prepared at the site from three types of extruded sections and some flat sheet material like metal, ply board, plastic etc. They can be designed to meet any requirement of size and load-bearing capacity.
Advantages of IQUBX Aluminium modular Floor Junction Box access outlet
1. The Lid cover sits in the cavity of the floor junction box, without using any fasteners for fixing. Thus, it does not come loose, while it can be easily lifted whenever necessary. This prevents entry of dust, rodents and other external elements. It also prevents safety hazards of people tripping over loose cover plates. Un-aesthetic and unkempt loose cover plates are avoided which may mar the interiors.
2. The top surface matches the floor level. Thus, it gives a professional aesthetic finish inside the junction box, suited for a contemporary interior.
3. The most notable feature is, however, that the lid cover uses the same floor finish as the surrounding. This can be any flooring material including tiles, carpets, wood, vinyl, PVC, stone, glass etc. Thus, they are a wonderful solution which gives a sophisticated high-end look for the interiors. The visible surface of the junction box and lid cover can also be powder coated.  The shade and colour can emulate the flooring material, making it completely unobtrusive.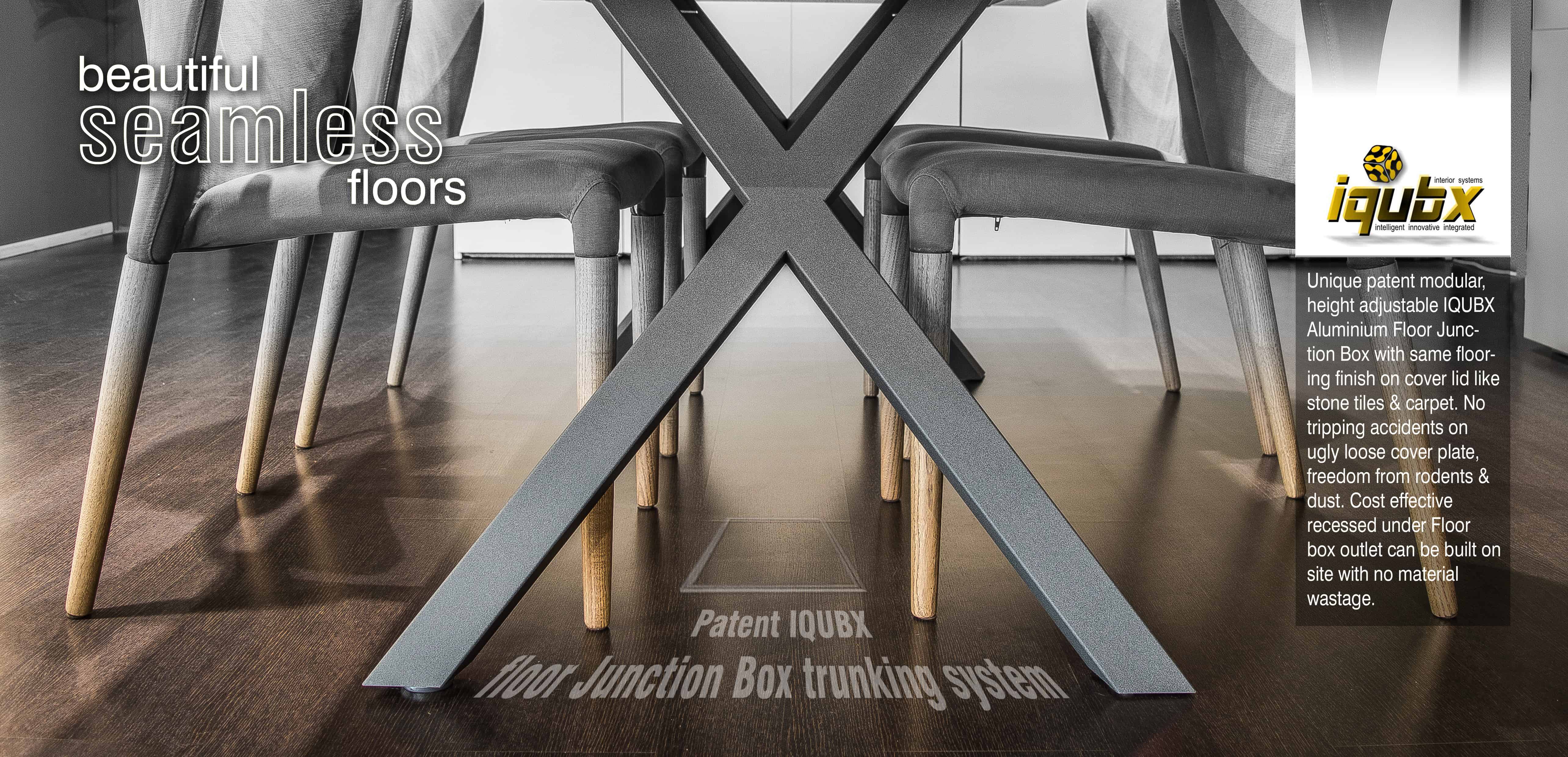 4. The sections of the floor junction box and the lid cover are designed to take high loads. This allows the furniture and live loads to be handled without creaking and sagging. There is also the built-in flexibility of adding more number of columns to provide additional load bearing capacity as per requirements. Further, huge access areas can be created by using multiple lids in grids. Thus, this system can also be used elegantly in server room areas to act as a raised access floor.
5. IQUBX Modular Floor Junction box is made up of extruded and non-corrosive Aluminium. This gives an accurate finish, low carbon footprint, almost nil wastage, with high possibility of recyclability and reusability. The product has been awarded GREENPRO certification by Indian Green Building Council, Confederation of Indian Industries.
Construction and assembly of IQUBX Modular Floor Junction Box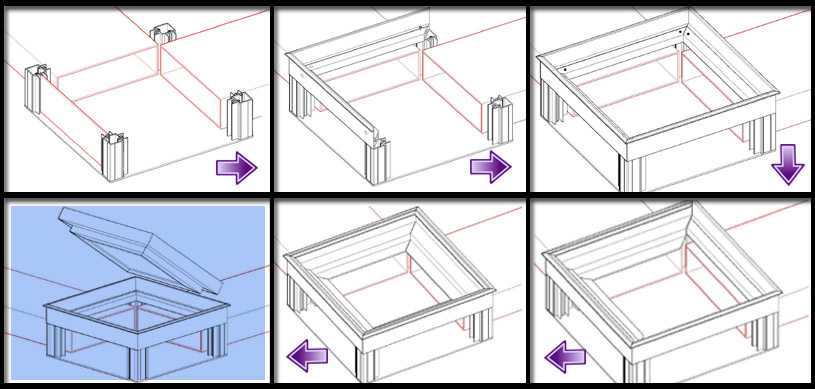 After the floor finish is laid, the columns are resized and the junction box is finalised. This provides a perfect level and match of the floor and a clean inside look.
Various types of IQUBX Modular Under Floor Junction Box
Thus, IQUBX Modular Floor Junction box is a unique and very economical solution for contemporary projects. They meet project requirements of low logistics, economy, good finish, functionality, and safety. And, they have the added advantage of being green building products.
IQUBX JB022 Modular Floor Junction Box
It is a universal, strong modular aluminium floor junction box design. It can take any floor finish and any kind of live and dead loads on the floor. Being truly modular, it is very flexible in design and construction.
The lid has a collar depth of 30mm to accommodate various floor finishes including 18 mm stone, 10mm tile or carpet. With a heavy profile, it is capable of taking point loads and uniformly distributed loads quite well, without creaking or squeaking. With the flexibility of adding columns in a grid, it can be enhanced to quite big sizes.
• All profiles of JB022abc available in 2440 mm length, made to order-up-to 4800 mm
• Junction box top profile comes in the raw finish. Can be supplied as powder coated or anodize finished
Typical specifications for JB022 can be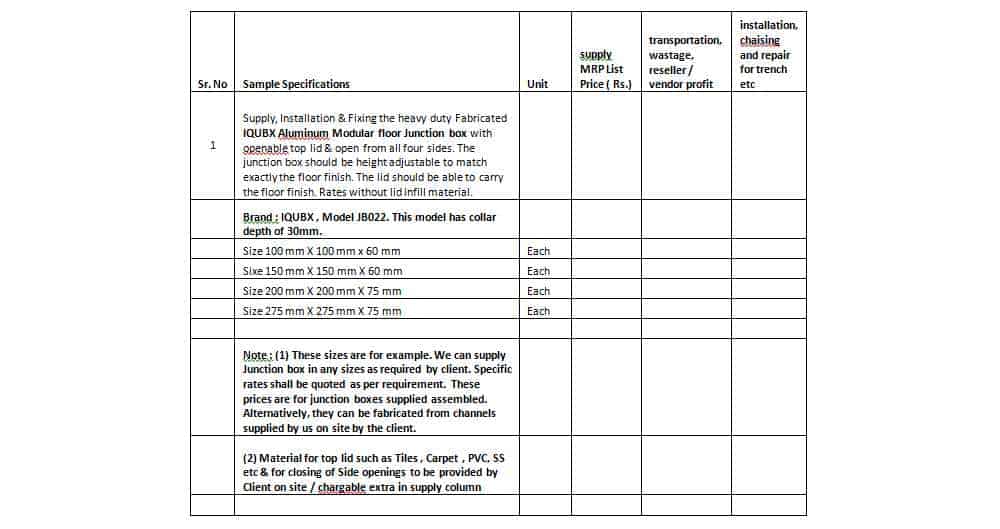 IQUBX JB023 Modular Floor Junction Box
IQUBX JB023 modular floor junction box is an improved and elegant, versatile and flexible patent design. It provides a readily available solution for floors with low margin below the floor finish. Yet it is able to meet aesthetic criteria for contemporary interiors in such spaces. However, it is best to keep its size small due to the lower load-bearing capacity of the lid cover.
JB023 is Lighter in weight and more economical product with same functionality, aesthetics, strength and performance. Specially designed and developed for low floor spaces with the floor height starting from 40mm up to 60mm and above.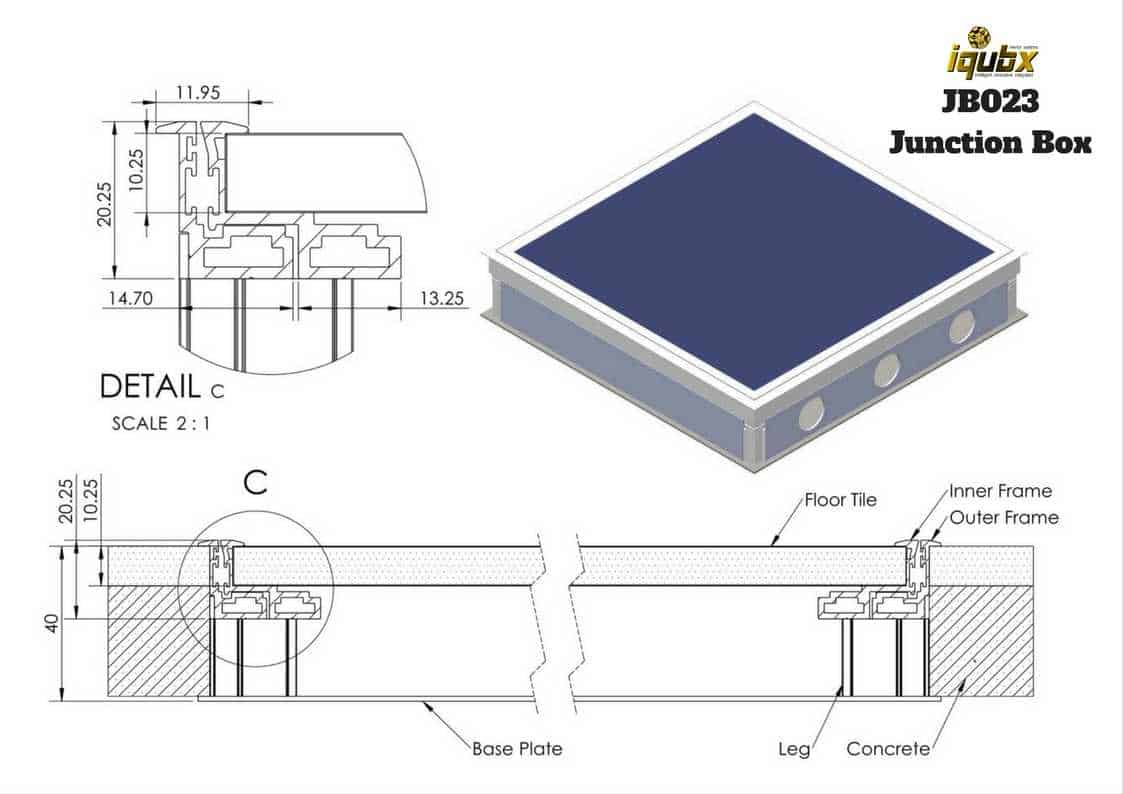 The Lid cover is thinner with inner space of just 10mm to accommodate a floor tile depth. It can easily accommodate other flooring materials like carpet with 6mm ply backing, laminated ply and ply clad with SS or any other metal sheet etc. It can be made to any height without compromising on strength to accommodate thicker floor raceways. With reduced collar depth, however, it can take a lesser load and should be used for relatively small sizes.

Thus this system is ideal for situations where low margin in a floor is available and smaller junction boxes are required
Typical specifications for JB023 can be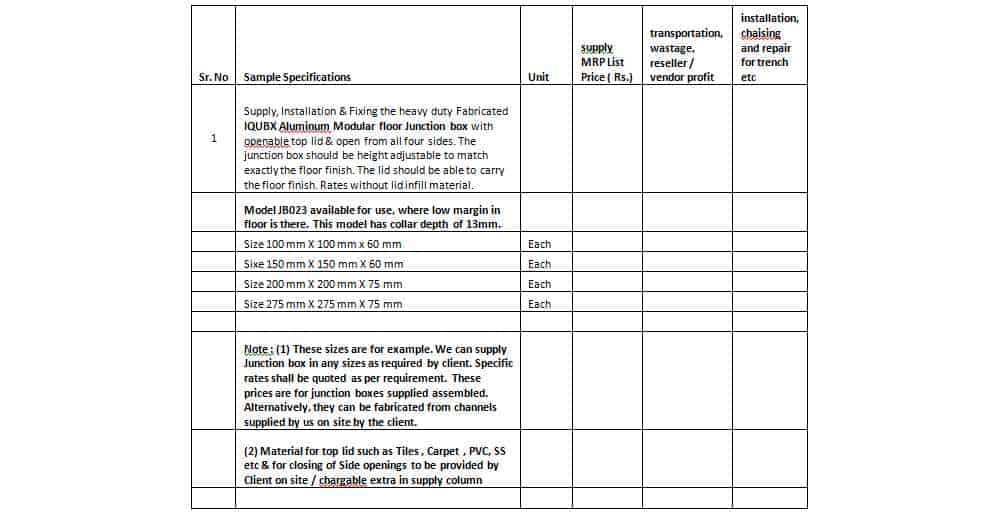 ---
For more information on the products and placing orders
Call +91 9999001967, 8506074444, 7065444402
Or email at [email protected] and [email protected]
Visit our site www.IQUBX.com to check out more products
We wish to tie up in India and other countries for marketing these products. Please connect with me for collaborations.
Subscribe to our newsletter for latest updates!