IQUBX SK031 Aluminium wall skirting board and chair rail is an innovative certified green building product (by IGBC, CII) for walls and partitions. Its unique design allows it to lock / snap-fit on its own profile when used inverted. It gives the unique advantage that the waste pieces can be used as mounting cleat by screwing them on wall and the skirting board can be mounted by single action.
Wall Skirting board definition & Chair rail definition – what is the purpose of a wall skirting board?
Wall Skirting board is a border, fixed round the base of an interior wall to protect it from kicks, dirt, etc., as per www.Dictionary.com or Collins English dictionary.  It is called baseboard or mopboard in US and Canada. And, as per www.wikipedia.org, a dado rail, or a chair rail, is a type of moulding fixed horizontally to the wall around the perimeter of a room
Wall Skirtings or Wall Skirting boards are an integral part of interiors and architecture to enjoin wall or partition to the floor finish. It helps in protecting the base of wall or partition from abrasion due to movement of people and goods or furniture, from moisture & dampness during wet mopping of a floor. In clean rooms and hospitals, it also prevents build up of dirt, germs and microbes as usually the skirting surface can be easily cleaned.
Lot of Wall Skirting board designs are available in market.
Chair Rail for walls, also called Dado rail is used as wall protection from chairs. That is, to protect wall finishes from getting damaged due to chair backs hitting and scratching the wall surface
Traditionally

Wall Skirting board and chair rail are made of wood, tiles, terrazzo
Limitation of finishes, matching with colour combination of interiors
Can usually be not changed in finish or colour later, if the interior decoration is changed
Is usually installed on site in a lengthy wet/dry process
Installation usually takes a few days
Wet installation usually requires other adjacent finishes to be held up till the skirting works are complete
Is difficult to remove and almost never possible to reuse or reinstall
In case, one decides to change / replace / repair, it becomes quite a headache as it becomes a lengthy process
Adjacent finishes are also disturbed, e.g., plaster and paint may need to be redone
Workmen of different fields like stone mason, carpenter, painter have to be re-engaged
Modular Aluminium Universal Wall Skirting board IQUBX SK031 & Chair Rail – IQUBX SK031CR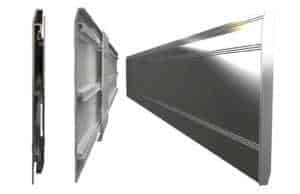 IQUBX SK031 Aluminium Wall skirting board and chair rail is a certified green building product modular pre-finished and quick install product. This modern wall skirting design comes pre-finished in standard powder coating or anodized finishes. It can also be finished in customized powder coating finishes like wood textures and other plain colours as well. Its unique design allows it to lock / snap-fit on its own profile when used inverted. It means a huge saving in installation time, wastage and logistics. Plastic end caps for both ends, inner corner and outer corner are available to make the installation professional and quick affair.
IQUBX SK031CR Chair Rail uses the same aluminium profile as SK031 for integrated interior aesthetics. They are a very versatile design, which can be used in various projects like offices, corporate interiors, retail, hospitals, clean areas and even homes as it is available in different finishes suited to different aesthetic requirements. It can be used to install on straight walls or partitions.
This modern skirting board design can take various finishes and can replace ss wall skirting, wood wall skirting, PVC wall skirting, MDF wall skirting and tile wall skirting or chair wall rails in these materials. They can be used with all kind of flooring like floor tiles, wood flooring, hardwood flooring and parquet flooring.
IQUBX Modular Aluminium Wall Skirting board and Chair rail have indoor as well as outdoor applications.
Certified Green Building Product – this product has been certified GREENPRO by Indian Green Building Council, Confederation of Indian Industries.
Modular design – ready to install and assemble at site
Prefinished – Being prefinished, it gives an amazing aesthetic appeal, quality of finish and does not require any finish after installation
Quality – These sections are extruded with high-quality 100% recycled aluminium in mechanized plants and finished with high specification coatings
Minimum assembly time – Being pre finished and due to the snap-fit system, the assembly time is minuscule and completely non-messy. This is not in case of other Aluminium available products which require pasting or use of screws to fix the product
Maintenance free – Finished with durable finishes like anodizing or powder coating, it is maintenance free and long lasting. It replaces traditional wood or tile skirting which was prone to damage. Wall Skirting board and chair rail can be removed and refitted with great ease for a requirement of any maintenance.
Holistic use – Since it can be installed on various wall surfaces and partitions, it gives a very holistic aesthetic design appeal. It can be used in different spaces requiring different aesthetics
Are a part of forthcoming IQUBX universal partition system, where the same modular wall aluminium skirting can be installed on modular workstations system & glass partitions also
Eco-friendly – Aluminium is among the most environmentally friendly metals on the planet with a very low carbon footprint. Its production is environmentally friendly. On a percentage basis, it is the most recycled of any industrial metal. It is a unique metal: strong, durable, flexible, impermeable, lightweight, corrosion-resistant and 100 percent recyclable (and that too infinitely). Aluminium products are highly reusable. It is an excellent material to use in LEED certified projects as it is part of global efforts to increase environmental safety and mitigate the climate change risks.
A very smart snap fit system uses the same skirting board pieces from wastage to be used as inverted base plates
Can be used at dado height as chair rail or dado rail, single or double runs, matching the skirting board design and finish
IQUBX SK031 is distinct from other available aluminium Wall skirting designs and chair rails as it doesn't require screws or adhesive to be fixed
The wall skirting board is installed in no time in a very clean, non-messy, dry process. Easily removable and can be reinstalled by anyone without an aid of any tools. Can be refinished easily, later, if so required
How to fit skirting board or chair rail?
IQUBX SK031 is a very simple ready to install, pre-finished modern wall skirting board design. The aluminium profiles are first sized after taking measurements of the walls. The leftover waste pieces are cut to smaller sizes of width 1″ to 2″, to act as wall cleats. They are fixed to the wall with screws in an inverted or upside down manner. The main skirting board or chair rail profiles can then be simply snap-fitted on these cleats.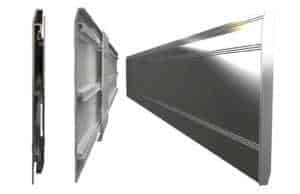 Chair rail can be a single run, just like the skirting board. Or it can have double run so that chamfered edges of the aluminium profile are towards outside.
How high do you fit a chair rail?
Since a chair rail is used for wall protection from chairs, it should be installed usually in between a dado height of 750 to 1200 mm. Several factors may dictate the final decision. For instance, what is the height of chair backs being used in the space, what is the total height of the ceiling, is the dado being used (as the dado will usually finish off at the chair rail).
Technical data
98 mm high x 5.5 mm thick
Order length 2400, 3000, 3600 mm
standard length 2400 mm
special lengths up to 4800 mm on order
Standard availability in raw aluminum finish
---
For more information on the products and placing orders
Call +91 9999001967, 8506074444, 7065444402
Or email at [email protected] and [email protected]
Visit our site www.IQUBX.com to check out more products
We wish to tie up in India and other countries for marketing these products. Please connect with me for collaborations.
Subscribe to our newsletter for latest updates!